year 6 to 7 Transition
Welcome to Rivington & Blackrod High School
The transition from primary to secondary school is exciting, full of challenges and experiences for parents and children. We work very hard to ease the transition period for all our students, so they are ready for the challenges of high school, enjoying new friendships and the new opportunities it brings.
To support you as you transition from primary to secondary school, we have included key information below, such as:
Key dates and general information about RBHS
Bus timetable example (2021-22) and uniform lists
Our top tips for starting high school
Department challenges
An invite to our fun, jam-packed Summer School
If you have any questions or require additional information, please do not hesitate to get in touch via email at lowerschool@rbhs.co.uk. Alternatively, you can call us on 01204 333 366, and a member of the Year 7 Pastoral team will get back to you as soon as possible.
Find out what some of our current Year 7 students think about the learning and life at RBHS:
What happens next?
Below is a timeline list of events you can expect.
Date

Events

March 2022

Welcome letter to Year 6 students

A welcome letter from Mr Needham, Head of Lower School, to our Year 6 students

17th March 2022

Launch of our online Transition Hub

Our online Transition Hub is designed to provide you with further information about the learning and life at Rivington & Blackrod High School.

If you have any other questions, please contact us at office@rbhs.co.uk.

May 2022

Parental Support Guide - click here to download a copy

A guide to help you support your child as they transition from Year 6 to 7.

25th May 2022

Virtual Parental Q&A - online - 5.30pm

An opportunity for parents to ask any questions they may have ahead of their child starting Year 7. Register your questions here - parents will be emailed log in details on the morning of the event.

May - June 2022

Primary School visits

Primary school visits from Mr Needham, Head of Lower School, and the Year 7 Pastoral Team.

27th June 2022

Transition Evening

Parents will be invited to attend Transition Evening, where they will have the opportunity to speak to teaching and support staff.

8th July 2022

Transition Day

Year 6 students who have accepted a place at RBHS will come and spend some time in school, meet some of our teachers and students and get a feel for the school. Transition day is usually the same date for all high schools and parents do not need to inform their current primary school that their child will be absent. Students should wear their school uniforms.

WC 22nd August 2022

Summer School 2022

A fantastic opportunity for students to meet their new teachers and make new friends whilst taking part in lots of fun and exciting activities.

September 2022

Enhanced On-site Transition

An enhanced on-site transition when the new term begins
Moving up to Secondary School
Moving to secondary school is an exciting time. You will meet lots of new people and have the opportunity to take part in new activities like sports and other clubs. However, it's also normal to be nervous about this big change in your life, so don't worry - lots of other students will be feeling the same. Read our top tips below to help you settle in.
1. Be confident
Introduce yourself to people even if it takes you out of your comfort zone - remember, most people will be in the same boat as you and will also be hoping to make new friends
2. Find common interests and pursue them together
3. Take your time
Good friendships often form gradually as you naturally learn more about each other
4. Join a club or lunchtime/after school activity to meet people
5. Get to know different people
You will often be partnered or seated with different people in your classes, which can be a good opportunity to get to know people
Good friends are often:
Honest
Reliable
Supportive
Good listeners
Sensitive to other's needs
Humble (don't brag)
Encouraging
Student Enrichment


As a school, we are committed to providing high quality opportunities outside the usual curriculum time through enrichment activities, such as:
Art and Crafts Club
Karate Club
Drama Club
Book Club
Filmmaking Club
Geography Club
Band Club
Badminton Club
Football/Netball Training
Basketball/Rugby Club
Dance Club
Science Club
These activities are an important and exciting feature of school life and contribute enormously to our student's academic and social development. The enrichment program at Rivington and Blackrod High School encourages our students to engage with their school community so that when they leave in Year 13, they are active, confident, and emotionally resilient young adults.
We have an exciting array of extracurricular activities for our students. Click on the link below to read our current enrichment guide for Spring 2022.
Enrichment Booklet Spring 2022 >
Booking a club
Students can book onto a club by using their school email account and completing the following steps:
You will see a list of clubs that are available in the enrichment booklet above
Select a club you wish to attend for the term and use your phone/device to scan the QR code for the club you want to book or click on the club email link
Complete your form details in four easy steps
Press submit to confirm your booking
Your club teacher will then receive a confirmation of the booking via an email
Transition Checklist
To help you prepare for the move to secondary school, we have created a checklist. Tick off each item as you complete it.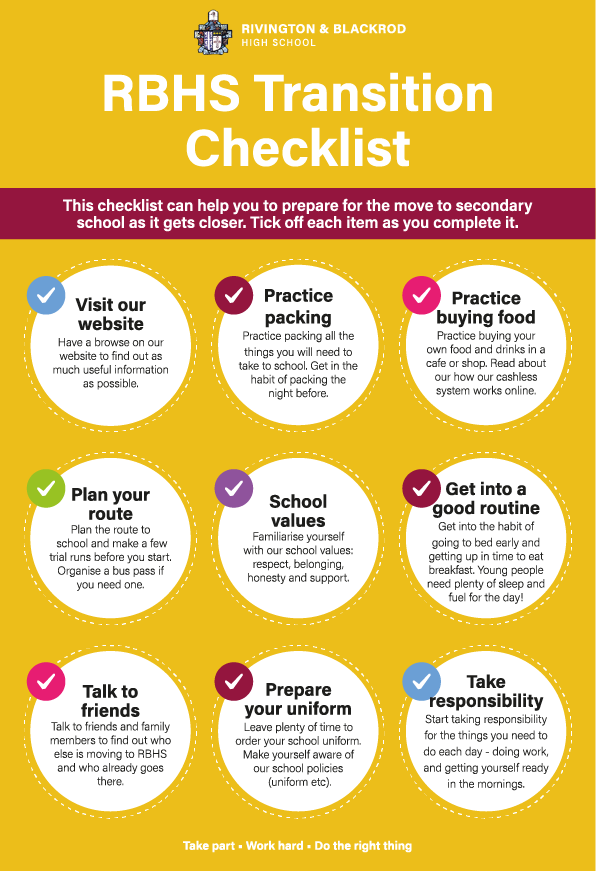 Download our Transition Checklist
Summer School 2022
Pre-registration for Summer School 2022 is now open!
Our Year 7 Summer School will run in the week commencing Monday, 22nd August 2022.
We are delighted to invite all students to attend the Summer School celebrating the "Magic and Mystery of RBHS".
During this week we are offering a range of exciting enrichment activities to all. This is a great opportunity for the students to meet friends old and new as well as some of the teachers they will have next year.
The students will learn in a fun and engaging way the history and values of the school.
Currently we are planning that the Summer School will conclude with an offsite trip where the students will take part in outdoor adventure team building activities.
Academic activities
Fun enrichment activities
Free lunch and snacks
A chance to meet new friends and teachers
Further information will be available over the coming weeks. To pre-register, please click the link below.
Take a look at some photos from Summer School 2021 below.
Pre-Register for Summer School 2022 >
KEY INFORMATION
Subject Challenges
To further support our new intake in making the transition from primary to secondary school, our teachers have created a collection of challenges based on the subjects you will study at Rivington and Blackrod High School.
This area will show all documents uploaded to the /docs/general/year_7_transition folder.
Documents will be shown in alphabetical order.
To list in date order, the folder should contain the word 'letter' or 'minute'.
Travelling to RBHS
Several bus services provide access to and from Rivington and Blackrod High School. However, the timetable and routes change each year.
For 2021-22, the dedicated 912, 913, 914, 915 school bus services operate to and from the school.
Commercial bus services
The following commercial bus services operate close to the school:
Visit the TfGM website for the latest information and timetables before you start.
Further information about travelling to RBHS >
School Uniform
As a school, we firmly believe that our school uniform at Key Stage 3 and 4 plays a valuable role in contributing to our ethos and setting an appropriate tone that supports effective teaching and learning.
Working with students, we have made a lot of progress towards achieving the consistent appearance of students in uniform across both key stages, and we are keen to maintain this. Therefore, all students should wear the specified school uniform below with names marked on each item.
Our brand new school Library
Our Year 7 students have exclusive access to our brand new school library every Friday at break and lunch. With over 4000 current fiction and non-fiction books spanning various interests and reading abilities, there is something for everyone.
To find out more about our library and how to hire books, please click the link below.
Contact Us
Lower School
Rivington & Blackrod High School
Albert Street,
Horwich,
Bolton,
Greater Manchester
BL6 7AW
Telephone: 01204 333266
Website: www.rbhs.co.uk
For general enquires contact: office@rbhs.co.uk