Reading at RBHS
At Rivington and Blackrod High School we believe that reading widely and enhancing vocabulary, both inside and outside of school, improves students' academic ability, allows students to articulate themselves accurately and in turn, prepares students for life beyond academia.
We have three strands to reading at RBHS:
Learning to read: those that require further support and intervention
Reading to learn: how our curriculum supports reading comprehension
Reading for enjoyment: how we encourage reading widely
Learning to read
When students arrive at Rivington and Blackrod High School, their reading is assessed and we assign those that need support to an intervention. The intervention that they will access is dependent upon their need. For our weakest readers, who require support with phonics, they will begin the FreshStart programme. For those who can already decode, they will be referred to our comprehension intervention.
We've had great success with our interventions and here's what some of our students have had to say:
My reading is a lot better now, especially following my Irlen's diagnosis, which was picked up through my reading intervention. I am more confident. As long as I am getting help, I am happy. RM
It was really fun! I learnt a lot of new sounds. It has been helping me when I am at home doing my homework and in English lessons. When Sir reads out loud I can understand it more. NB
I can pronounce words better and I am better at sounding new words out. The books we read are funny and I enjoy it. Sometimes by brain doesn't process the word fast enough, but if I get a word wrong, Miss asks me to slow down. It takes me a couple of seconds, but I get it right. JW
We enjoy our reading sessions. We like the way Miss teaches us and we are more confident in lessons now, when faced with reading new information. AA, JC and LM
Reading to learn
At RBHS, there is a consistent approach to reading across the curriculum. All staff have been trained to deliver new vocabulary and texts in a way that reduces cognitive load and supports comprehension.
Alongside reading in each subject, students receive the following in our curriculum:
a form time reading programme
a Reading for Pleasure lesson through the Ark Mastery Curriculum
KS3 receive Academic Reading and writing Projects as part of their homework
All texts selected as part of the projects, reading lessons and form time programme are selected with the view of being able to expose students to a more diverse range of writers and protagonists and expand their cultural capital. Our form time reading covers a range of genres and contexts: Goldfish Boy, The girl of Ink and Stars, The Curious Incident of the Dog in the Nighttime, Lord of the Flies, Never Let Me Go.
Reading for enjoyment
As a school, we promote reading widely. Please see below just some of the ways we have celebrated reading recently.
We have a Library with an extensive range of both fiction and non-fiction
We use reading as a reward. Please see the images below of our vending machines where students receive tokens for living our values of work hard, take part and do the right thing. Each week, one subject nominates a student from each year group and they receive a vending-machine token.
In the Sixth Form, we have copies of The Guardian weekly for students to read, alongside non-fiction texts for their subjects.
We celebrate all the calendared events across the year, including World Book Day, National Read a Book Day and Roald Dahl Day to name a few.
Please see the below images of various ways we've celebrated reading.
Our constantly updated library stock is advertised on screens around school and on our Twitter page
Our vending machines are used for rewards
Our staff book club meets termly in the library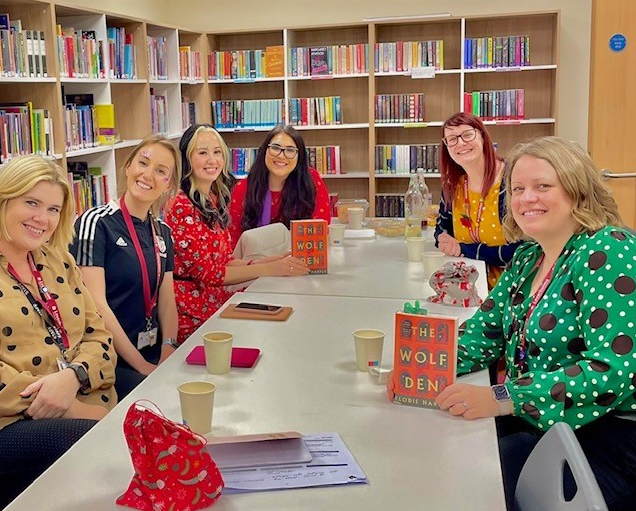 Our reading advent calendar and secret-elf competition created a festive buzz about reading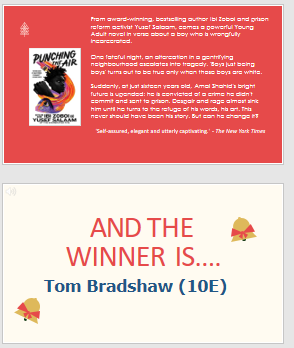 We celebrated Halloween with a spooky visit from horror author Cynthia Murphy