Mental Health & Emotional Wellbeing
Promoting Positive Mental Health
At Rivington and Blackrod, we aim to promote positive emotional health and wellbeing for our whole school community. We recognise the importance of nurturing healthy minds. The mental health of a student is a crucial factor in their overall wellbeing and can affect their learning, social and emotional achievement.
Our role as a school is to:
To develop an ethos and environment that supports learning and promotes the health and wellbeing of all
To promote resilience in students
To ensure students feel safe and supported
To develop a sense of belonging, encouraging participation of all within the school community
To build pupil relationships and trust - encouraging students to talk openly with adults about their problem
To offer mental health support during periods of isolation
Mental Health Student Pathway
As a School, we offer different levels of Mental Health support.
Wave 1 - Universal Support: To meet the needs of all our students through our overall ethos and our wider curriculum. For instance, developing emotional resilience for all.
Wave 2 - Short term additional support: For those who may have short-term needs and those who may have been made vulnerable by life experiences such as bereavement.
Wave 3 - Long term targeted support: For students who need more individualised support and resources or specific targeted interventions to support their mental health.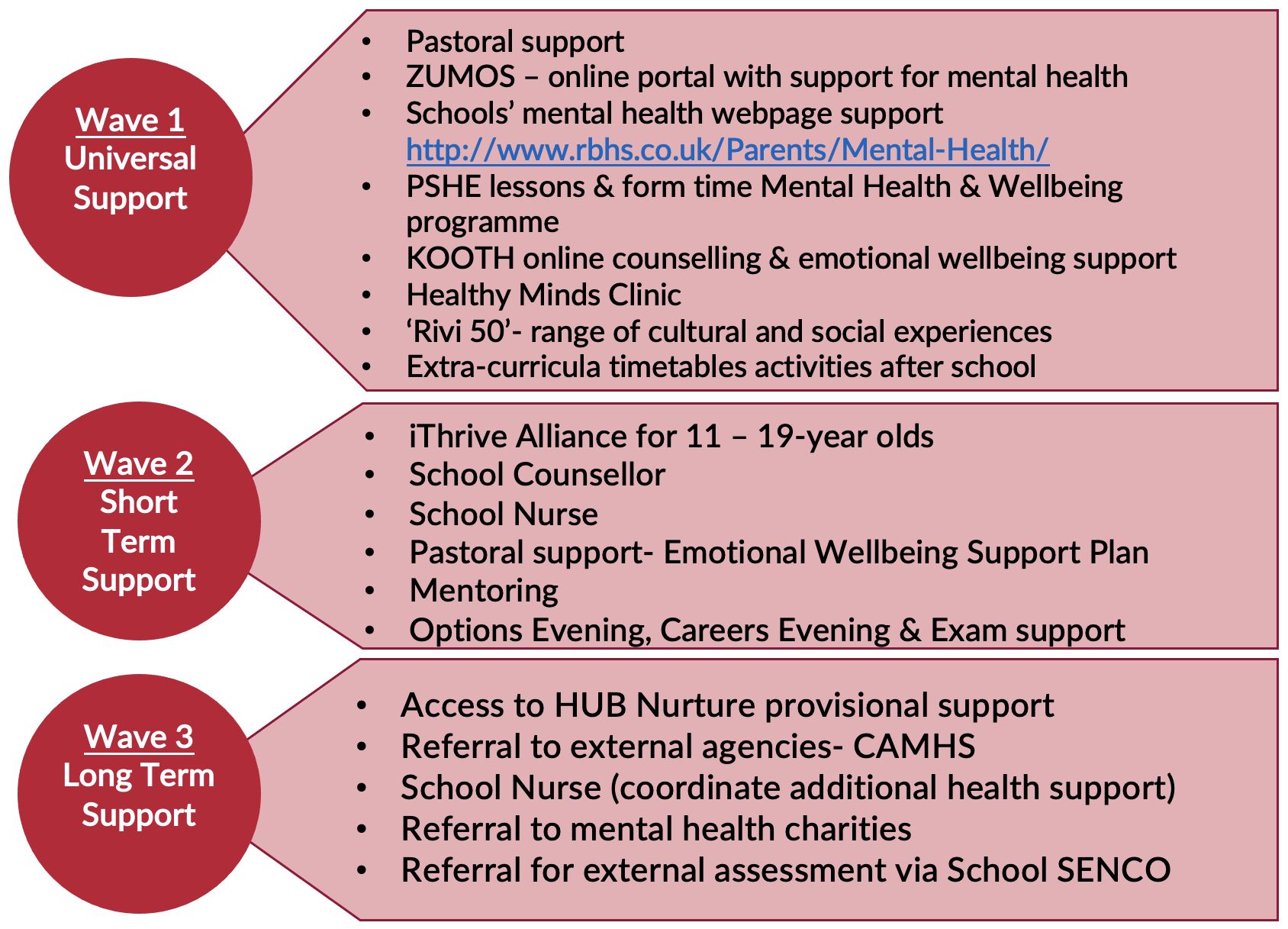 Mental Health Self Help
The purpose of the Mental Health and Wellbeing individual topics, are resources which are designed to develop your understanding of wellbeing and the ability to recognise and know to how stay both mentally and emotionally safe.
Friendships
Online Stress & FOMO
Handling Exam Stress
Developing a Growth Mindset
In School Support
When you are in school, you can go to your Form Tutor or Pastoral Year Lead if you need extra support, or even if you just need to talk.
Year Group
Pastoral Year Lead
Email

7

Miss Fraser

dfraser@rbhs.co.uk

8

Miss McGill

lmcgill@rbhs.co.uk

9

Miss Luke

vluke@rbhs.co.uk

10

Mr Patel

vpatel@rbhs.co.uk

11

Miss Hallam

lhallam@rbhs.co.uk
Getting Help
As a school, we believe no one should have to face mental health difficulties on their own, and support is widely available beyond school.
Here you can find a list of organisations providing expert advice, a listening ear and resources for managing distress.
Can't find the organisation for you? Don't worry! Visit the NHS website for an extended list.
Mental Health Resources
Bekindtoyourmind
Bekindtomymind is a Bolton campaign to help reduce the stigma around mental health. Our local message to children and young people who are struggling with their mental health is that "it's ok to talk!
Why not become one of our champions? If you are interested speak to Mr Brown about how you can apply.
https://www.bekindtomymind.co.uk/
IMPORTANT

- If you have any concerns, please contact the Pastoral Year Team who will be able to assist.