Celebrating National Apprenticeship Week 2022: Build The Future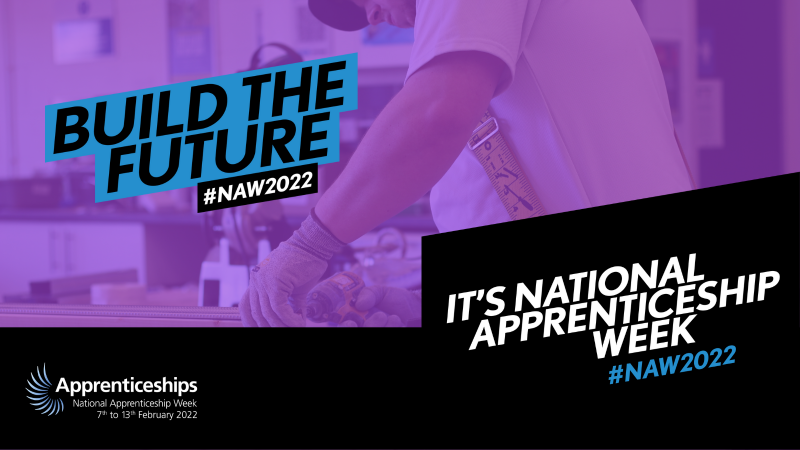 National Apprenticeship Week 2022 takes place from Monday, 7th until Sunday, 13th February, and the theme this year is Build The Future.
We have a range of activities planned throughout the week to celebrate apprenticeship success and shine a light on the positive impact they can have on individuals, and we will be sharing information and guidance to inspire the next generation of apprentices to be the best versions of themselves.
On Monday, 7th February, successful businessman Adam Corbally will be hosting a 60-minute workshop with our Year 11 students looking at apprenticeships and the new T-level pathway.
Adam has a fascinating story, from his days in a one bedroom flat over a convenience store to a successful businessman reaching the final stages of the TV show 'The Apprentice'. He has a range of stories that resonate with staff students alike. Alongside sharing apprenticeship information, his presentation touches on bullying, friendship groups and the virtue of hard work. He has appeared across Leverhulme Academy Trust several times in the past and proved incredibly popular.
For more information about apprenticeships or CEIAG (Careers Education, Information, Advice and Guidance), please contact Mrs Maher at dmaher@rbhs.co.uk.
We encourage all our students to consider how apprenticeships can help develop the skills and knowledge required for a rewarding career.
Depart for Education Additional Resources
To coincide with National Apprenticeships Week 2022, Alex Burghart, Minister for Skills, has written to students and parents about the opportunities and benefits apprenticeships can bring to young people.
Please visit the links below.